ThunderChickens FIRST Robotics Team is Ready for 2018 Competition
With a new year comes a new FIRST Robotics season for the ThunderChickens. High school students in FIRST Robotics teams across the globe anxiously wait for this time of year. On January 6th, "For Inspiration and Recognition in Science and Technology" (FIRST) released this year's FIRST ROBOTICS COMPETITION (FRC) challenge.
FIRST Robotics is an organization that has been around since its founding by Dean Kamen and Woodie Flowers in 1989. Their goal is to inspire young students to participate in Science and Engineering as if it were a sport. With traditional high school sports receiving so much attention, Dean and Woodie set out to create a sport for the mind that all of its participants could "go pro" in some day.
Fast forward to 2018 and FIRST has over 4400 active high school FRC teams, and many more middle school FTC, and elementary FLL teams. FIRST is still an expanding organization that has teams all over the globe. Michigan is one of the most densely populated regions of FIRST teams, almost equal to California and Texas combined. This year the Easter World Championship for FIRST will be held in Detroit at the Cobo Center and Ford Field in April.
This year's challenge is titled FIRST Power Up and has a retro arcade theme. Once teams received the challenge, they got to work reading the rules and coming up with ideas. The build season for FRC teams is only six weeks long; teams must create a robot from concept to finish product within six weeks that can play and compete in competitions for that year's challenge.
Who are the ThunderChickens?
The ThunderChickens are a high school level FIRST team from Sterling Heights, Michigan, and consists of the four high schools who share time programs in Utica Community Schools. This is our 20th year anniversary as a team, and we are excited for this season. ThunderChickens have won two world championships in 2006 and 2008. The team this year has over 40 students and is organized into five departments. The departments are Design, Mechanical, Electrical, Programming, and Public Relations. Students are encouraged to learn from the departments that interest them and learn as much as they can from team members and mentors alike.
The challenge is no small task and allows only six weeks to go from concept to finished product. Team ThunderChickens are dedicated and brilliant students who work after school and on weekends to make their February 20th deadline when all work is halted and locked up. It's a mad dash to the finish line, but they have what it takes.
The ThunderChickens Use SOLIDWORKS 3D CAD Software
Before the season starts, team ThunderChickens requires all of the new students to attend SOLIDWORKS training. Training is a week-long course that provides hands-on experience with the 3D CAD software, a great skill for the students to have. In training, students learn the basics of how to use SOLIDWORKS to create basic parts using extrude base and extrude cuts, all the way to complex topics like creating sheet metal parts. To continue the opportunities for the students, we encourage them to download SOLIDWORKS Students Edition at home as well.
Each year the ThunderChickens design team uses SOLIDWORKS to create 3D models of parts, 2D drawings for manufacturing, and a full 3D assembly of the robot. Once the team decides what prototype concepts to use on the final robot, the design team gets to work. They use SOLIDWORKS to create the entire robot out of sheet metal, tube stock, axles, and common off the shelf parts. Luckily we can import 3D CAD models from manufacturers, like Vex Robotics, such as common motors, axles stock, and tube stock, transmissions, and many other parts that help to save on design time.
SOLIDWORKS sheet metal features are an excellent tool for FIRST team to use. It provides a quick and easy way to create complex parts with hole placements and tab length to be exact. SOLIDWORKS takes care of calculating the flat pattern factoring the change in dimension as the metal bends. This also allows the students to directly send CAD data to the sheet metal manufacturers to use in their machines. Once we get the finished metal parts, it goes together like a Lego set, using the CAD model as instructions.
3D Printing Plays an Important Role in FIRST Robotics Team Challenge
FDM (Fused Deposition Modeling) based 3D printing has been a great addition to our team the past few years. We always end up with some complex parts that would be hard to machine by traditional methods, and 3D printing can produce these parts quickly and accurately. 3D printing has opened up a whole new world of potential solutions to some complex and trivial tasks. We have been printing parts from spacers, encoder brackets, electrons harnesses, and even keychains as giveaways.
Early on when the team is busy prototyping time is critical. Whenever a part needs to be made, is has to be machined or cut by hand. This takes time away from other tasks or can slows down the process altogether. With 3D printing, we are able to use our time wisely and produce parts overnight.
In FRC the robots can only be 120 pounds, so weight is critical. Having the capacity to adjust the infill density of the part is an amazing weight saving feature in 3D printing. It allows us to hollow out the interior of the part to be lighter while keeping the shell strong producing a robust, lightweight part. We have also been able to replace some purchased components like axle spacers with 3D printed parts reducing the cost of the components to just pennies.
Learn More
SOLIDWORKS in academia bridges the gap between ideas and technology for educators, students, and researchers. Are you interested in using SOLIDWORKS in your school?
Related Articles
2017 FIRST Robotics Competition: The Dundee Vi-Borgs
The ThunderChickens use SOLIDWORKS and 3D Printing to Design Their FIRST Robotics Team Robot
The Camobots FIRST Robotics Team Climbs, Catches, and Overcomes Obstacles in 2017
About the Author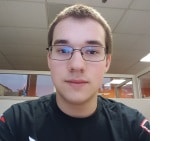 Ryan Henigan is the Thunderchickens FIRST Robotics team design mentor and alumni out of Sterling Heights, MI and has been involved in FIRST for 15 years. He was lead design for three years while on the team and a pit crew lead for four years. Currently he is a sophomore at Lawrence Technological University studying mechanical engineering with heavy interests in 3D printing.